[check back regularly for updates]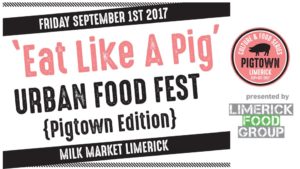 Sep 01 Friday 5:00pm OPENING EVENT – 'Eat Like A Pig' – URBAN FOOD FEST {Pigtown Edition} (free admission)

Street food evening event at Limerick Milk Market kicks off the Pigtown Food Series! Stall application forms here: PigtownUFF-app-form
From Sep 01 [all month long] – The Pig-tail Series hosted by Pharmacia
Using local ingredients and infused liquors to create a cocktail selection that embraces the flavours of Limerick, Pharmacia will be hosting a limited time Pig-tail menu celebrating the heritage of Limerick food over the month of September. Combined with this, Pharmacia will host a discussion (DATE TBC) around unique cocktail and food combinations in Limerick.
From Sep 01 [running for 6 weeks] – Gin Pig Dinners at House Limerick

Pigtown Butcher's Board, also Gin & Pinto pairing as part of the evening menu.
Sep 02 Saturday 11.00am – Milk Market Kitchen presents Chef Tom Flavin

(free)

Cooking demo upstairs at the Milk Market Mezzanine with Fáilte Ireland Food Champion and Executive Chef Tom Flavin #ThisIsIrishFood
Sep 02 Saturday – Limerick Ceramic Artists host 'A Pig's Tale' (free)

A ceramic exhibition inspired by Limerick's legendary pork butchers and the part they played in the city's economic, cultural and social history. A unique art experience at Limerick's Milk Market open every Saturday from 11am to 3pm. (Moving to Fab Lab, Rutland St from Monday October 2nd until 19th.) http://www.limerickceramicartists.com/a-pigs-tale-2017.html

Sep 07 Thursday 7.00-9.00pm – 'The Pigtown Smoke' bbq event at House Limerick
'€8 for a hot dog and a pint' in the open garden area outside (weather dependent).
Sep 08 Friday 8:00pm – 'History of the Meat Industry in Limerick' by historian Tom Toomey followed by panel discussion with Joe Hayes, Limerick Pork Butcher Society and Ruth Guiry, author Pigtown – A history of Limerick's Bacon Industry (free)

As part of Elemental Festival, Tom Toomey – local historian and author will give a lecture on the food history of the city – our Pigtown Roots, Ranks and Cleeves factories – their rise and downfall. This will be followed by a panel discussion with Joe Hayes of the Limerick Pork Butcher Society and Ruth Guiry, author of 'Pigtown – A history of Limerick's Bacon Industry. Taking place at The Gallery at the Milk Market. Admission free.
Sep 09 Saturday 11:00am – Milk Market Kitchen presents Theresa Storey of The Green Apron and Ciara Brennan of Happy Food At Home

(free)

Cookery demo upstairs at the Milk Market Mezzanine.
Sep 09 Saturday 12:00 – 'Beyond the Pig – Veganism in a Meat Eaters World' (free)
Discussion facilitated by Slow Food Limerick at the Milk Market Mezzanine. Free admission.
Sep 10 Sunday – Ardagh Family Fun Day for Pigtown (donation)

Pig on a spit, cinder block pit pig feast, bouncing castles, races, long puck, games, face painting, cake sale and much more family fun taking place at Coolcappagh GAA field.
Sep 10-23 – 'Pigtown Neighbourhood Pig-nic' in partnership with Limerick's Live 95FM '95 Stop Tour for Limerick kids' (free/donation)

In this busy world it's hard to find time to meet your neighbour. Why not run a neighbourhood or street pig-nic and invite everyone around to share food and friendship while tossing your spare change into 95fm's collection for CARI, Neonatal Unit and the Children's Ark? It's an easy to run fun and rewarding event for all. Hold your own Pig-nic! Click here to read more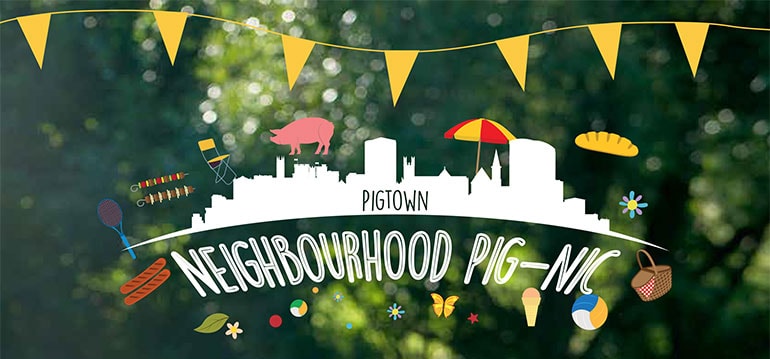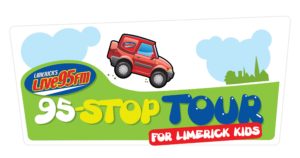 Sep 11 Monday – Food Industry Networking Seminar with LEO & Innovate Limerick (free)

The Local Enterprise Office in conjunction with Innovate Limerick and the Limerick Food Group will hold an Industry Networking Seminar in the South Court Hotel, Raheen from 11am to 3pm. This event aims to provide an opportunity for food businesses in the area to meet, network and learn more about how collaboration and networking together can benefit the whole Limerick food industry. There will be a number of key industry speakers on the day who will share their own personal experiences of how food initiatives and working with other food businesses has positively impacted their business. This will be followed be a chaired Q & A session. A light lunch for attendees will also be served. Registration is now open on www.localenterprise.ie/limerick
Sep 16 Saturday 11:00am – Milk Market Kitchen presents Caroline Rigney of Rigney's Farm & Chef Keith Pigott

(free)

Cookery demo using Caroline's famous black pudding upstairs at the Milk Market Mezzanine.
Sep 16 Saturday 1:00pm – Pigtown Guided Walking Tour of Limerick (free)
Join Marie Taylor on a guided walk to include the quays and discuss the development of the quays and the warehousing, mills and distillery, walk along the streets where the many bacon factories would have been located and discuss their importance to the economy and visit the sites of the various markets located in Limerick. Meeting point is Harper's Coffee in the Milk Market, duration 1-1.5hrs.
Sep 22 Friday – CULTURE NIGHT

Celebrating pigs in the city with a parade through the streets! A GIANT PIG will head the parade accompanied by LIVE PIGS and human masked piglets – it will be an amazing event. Come along and join in! Scenes from Mike Finn's play Pigtown, face-painting, music and more. Join us at Cruises St from 5.30pm as we get in the spirit of all things swine before our giant piggy and live piglets lead us on the parade as far as the Milk Market. Bring your pig masks and join in the fun.
Cultured Pig at the Milk Market (free)

The Milk Market will be holding Pigtown themed activities during Culture Night including cooking demos, butchery skills demos, an exhibition of photographs from Limerick Butchers, kids games, pig mask colouring competition. and a range of local street food stalls to feed revellers.
A unique culinary experience, reflecting the resilience and passion of the people of Limerick, this is a pig-themed gourmet trip of Limerick restaurants and bars with a course in each premises. Visit the Limerick Strand Hotel, Absolute Hotel, Clayton Hotel and The Savoy Hotel in association with Limerick Carriage Tours… The event kicks-off from 7pm and consists of an exclusive 4-course meal, each course served at a different hotel with each Executive Chef proudly presenting a course consisting of exciting innovative Pigtown-themed locally sourced food, each course will be paired with wine. Limerick Carriage Tours have also come onboard so there's no need to worry about travelling from one establishment to the other as they shall cart guests between each location on their beautiful horse drawn carriage. As soon as you step aboard the luxurious carriage you will be greeted by your own personal guide to show you around the many wonderful historical sites and beautiful scenery that our proud and majestic city has to offer! The weatherproof carriage comes with warm wool blankets to snuggle into. Timings and details of this unique event are as follows: Group A: Arrival At Strand Hotel at 6:15pm; Group B: Arrival At Strand Hotel at 6:45pm The Limerick Food Mile Evening Package inclusive of the 4 course dinner, wine with each course and transport to each venue costs €49 per person. As this is a unique event places are strictly limited to 20 people. For booking visit: https://sirius.eventmaster.ie/event/BGEc23c8j
Sep 23 Saturday 11:00am – Milk Market Kitchen presents Khairul Hisham Bin Salim, Sous Chef at Limerick Strand Hotel

(free)

Cookery demo and workshop upstairs at the Milk Market Mezzanine.
Sep 23 Saturday 10:00am-2:00pm – Newcastle West Food Tour with Sharon Noonan of Best Possible Taste

Join Sharon Noonan, presenter of the Best Possible Taste radio show and podcast, on a food tour of her native Newcastle West, Co Limerick. Learn how food has played a role in the history of the town, enjoy tastings of some notable artisan food products and craft beers, attend a sushi making demonstration, visit the iconic Desmond Banqueting Hall and indulge in a lunch prepared using many of the finest ingredients from the locality. €54 per person including lunch and booking fee. Pre-booking online essential, see www.sharonnoonan.com

*CANCELLED DUE TO BEREAVEMENT APOLOGIES. MAY BE RESCHEDULED FOR OCTOBER* – Urban Foraging Walk with Theresa Storey
Sep 28 Thursday 7:30pm – Swine & Wine
Four course French wine tasting dinner, featuring the best local and seasonal ingredients will be served in the AA Rosette River Restaurant at the Limerick Strand Hotel. Hosted by a representative from Maison Jaffelin, a small boutique Burgundy wine house, and fed by Executive Chef Tom Flavin, guests will enjoy dishes such as: Nose to Tail Terrine, Pressed Belly of Rigney's Rare Breed Pork Smoked Bacon, Barley Broth, Seared Wild Boar Loin, Rare Breed Pork Sausage and Black Pudding paired with wine from Maison Jaffelin. Swine & Wine costs €49.00 per person to include welcome drink. Tickets are available here: https://sirius.eventmaster.ie/event/bM5C9AHjr

Sep 30 Saturday 11:00am – Milk Market Kitchen presents Dermot Clancy Head Chef, Absolute Hotel

(free)

Cookery demo and workshop upstairs at the Milk Market Mezzanine.
————————————————————
Taking place over both September and October:
Throughout the Pigtown Series, Limerick Restaurants, Hotels and Bars will be featuring various Pigtown themed dishes and beverages.
Pigtown for Primary Schools
Getting the children interested in our food heritage and culture is so important. We will have posters on the history and traditions of the pig in Limerick food and culture (aimed at 3rd to 6th class), pig mask template and craft ideas for the Pig Parade (for junior infants to 2nd class) and school visits, and are encouraging all primary schools in the region to become involved in the festival.
Milk Market Kitchen, the Milk Market, Saturday Mornings @11am



The autumn series of the popular Saturday Morning cooking demos in the Milk Market Kitchen will include Making Homemade Sauerkraut, Limerick-style Pulled Pork, Preserving the Harvest – All about the Apples, Cooking Wild Food, The Pig 'from nose to tail' and Sausage Making. The demonstrations are given by some of our talented local producers, chefs and food writers.
'Pin the Tail on the Pig' Art Attack at The Frank McCourt Museum
Visitors to the famous Frank McCourt Museum at Leamy House on Hartstonge Street are invited to take part in the museum's Art Attack event – taste some fabulous Limerick ham and play 'pin the tail on the pig' while exploring this iconic building and its contents.
Movie series at Chez le Fab.