[check back regularly for updates]
Running until October 13th – Gin Pig Dinners at House Limerick

Pigtown Butcher's Board, also Gin & Pinto pairing as part of the evening menu.
Oct 05 Thursday (running until Oct 19) – Limerick Ceramic Artists present 'A Pig's Tale' (free)

A ceramic exhibition inspired by Limerick's legendary pork butchers and the part they played in the city's economic, cultural and social history. A unique art experience at Fab Lab, Rutland St. http://www.limerickceramicartists.com/a-pigs-tale-2017.html

Oct 07 Saturday 12.30am – Simple Sourdough Cooking Demo (free)
With Executive Chef Tom Flavin taking place in the Terrace Cafe of the Limerick Strand Hotel.
Oct 14 Saturday 11:00am-1:00pm – The Great Recipe Swap – Hosted by Limerick Federation of the ICA (free)

Renowned for their cooking skills (among many other things), the ICA (Irish Countrywomen's Association) are the keepers of our traditional baking recipes and techniques. Come and share your recipes and methods with them at The Gallery in the Limerick Milk Market so we can all be better bakers.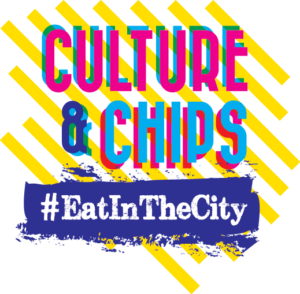 Oct 14 Saturday 11am-7pm – Culture & Chips presents Eat In The City (free)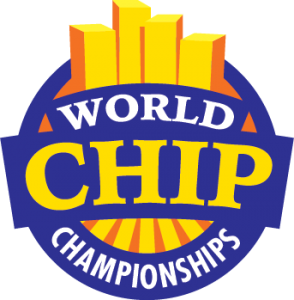 Limerick's quirky food carnival returns to The Crescent, O'Connell Avenue for the Culture & Chips #EatInTheCity festival which includes the World Chip Championships.
Oct 14 Saturday 12:30pm – Culture & Chips presents Cooking Demo with Chef Wade Murphy (free)

Cookery demo at The Crescent, O'Connell Avenue for Culture & Chips #EatInTheCity festival.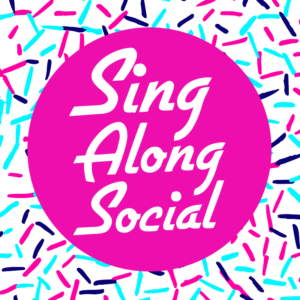 Oct 15 Sunday 11am-2pm – Culture & Chips presents The Sing Along Social Brunch at Canteen

The Sing Along Social is a zero-commitment choir designed for people who can't really sing. You don't have to practice, you don't need to know the words and you don't even need to be able to sing. It's about caterwauling along to your favourite tunes in the company of friends and strangers. Meet in Canteen at 11am for a soothing brunch (last orders for brunch at 11.45am latest), followed by a revitalising Pop Culture Sing Along Social at 12.30pm sharp. They'll be bringing Cyndi, Whitney, Mariah, Justin and Britney along to help you sing those Sunday cobwebs away. Prizes will be awarded to the best worst singers. Tickets are €15 (+booking fee) and include brunch (tea/coffee not included) as well as your Sing Along Social lyric booklet. Book here: https://www.eventbrite.ie/e/sing-along-social-tickets-38357669823
Oct 18 Wednesday – Pigtown Tasting Menu, LIT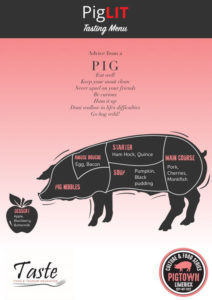 Limerick Institute of Technology's Food and Tourism Department will host a Pigtown Tasting Menu produced by LIT students. Cost is €25pp. Bookings and for further details email Ann at taste@lit.ie
Oct 19 Thursday 8:00pm – The Lounge 102 presents 'The Brewer, The Baker & The Cheesemaker' at Mothermacs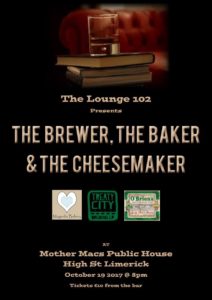 Meet the local producers behind Treaty City Brewing, Magnolia Bakery and O'Brien's Cheese. Tickets €10 from Mothermacs, High Street. More details here: http://thelounge102.blogspot.ie/2017/10/the-brewer-baker-and-cheesemaker.html
Oct 20 Friday 7:00pm – 'Piggy' 5 Course Dinner & Wine Pairings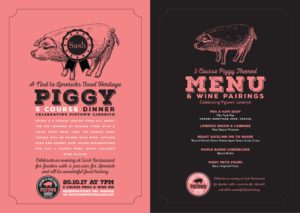 in Sash at No1 Pery Square

Celebrate an evening for foodies with a passion for Limerick and all its wonderful food history at Sash Restaurant in No1 Pery Square. Enjoy a 5 Course Tasting Menu all about the pig, inspired by bygone times with a twist from Head Chef Tim Harris. Each course will be paired with wine, artisan beer and sherry. 5 Course menu & wine €59. Now taking reservations 061 402402 or info@oneperysquare.com
Oct 21 Saturday 11:00am – Milk Market Kitchen presents The Fire Chef

(free)

Cookery demo and workshop upstairs at the Milk Market Mezzanine with The Firefighting Chef, Paul Knapp, here's a preview of what you can expect…
CANCELLED DUE TO STORM WARNING (SORRY!) – Pigtown Guided Walking Tour of Limerick with Marie Taylor (free)
Join Marie Taylor on a guided walk to include the quays and discuss the development of the quays and the warehousing, mills and distillery, walk along the streets where the many bacon factories would have been located and discuss their importance to the economy and visit the sites of the various markets located in Limerick. Meeting point is Harper's Coffee in the Milk Market, duration 1.5-2hrs.
Oct 25 Wednesday – Pigtown Supper at The Mustard Seed

John Edward Joyce and his team at the Mustard Seed at Echo Lodge, Ballingarry, Co Limerick are thrilled to celebrate Pigtown with this special supper. The menu for the 5 course supper has been designed with the Pigtown Limerick theme in mind and other popular dish choices will be available to take into account the in-season ingredients from the Mustard Seed garden. €48.00 per person (5 courses). A special overnight rate of €55.00pps B&B is also on offer to facilitate enjoyment of their award winning breakfast incorporating black and white pudding made by Mustard Seed Head Chef Angel Pirev. Booking essential tel: 069 68508 or email mustard@indigo.ie http://www.mustardseed.ie
Oct 26 Thursday 5.30pm-7.30pm – Limerick's Pigtown History – talk by Tom Toomey, followed by discussion with Joe Hayes, Limerick Pork Butcher Society (free)

Tom Toomey, local historian and author, will give a lecture on the food history of the city – our Pigtown Roots, Ranks and Cleeves factories – their rise and downfall. This will be followed by an audience discussion with Joe Hayes of the Limerick Pork Butcher Society. Taking place at Workbench Limerick. Admission free.
Oct 28 Saturday 11:00am – Milk Market Kitchen presents 'Winter Warmers' with Ciara Brennan chef/proprietor of Happy Food at Home

(free)

'Winter Warmers' cookery demo upstairs at the Milk Market Mezzanine.
Oct 28 Saturday 7pm-10:30pm- – Eclectic Pignic at Chez le Fab (free)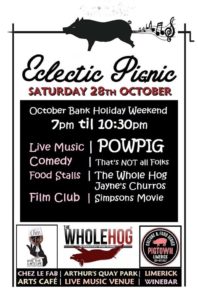 Chez le Fab is hosting a mini-festival: "Eclectic Pignic" under the canopy to celebrate the Pigtown Food Series. They will have food stalls including Jayne's Churros serving delicious sweet treats. Local teenage girl band POWPIG will be taking to the stage along with some local musicians, a comedy sideshow called "That's NOT all folks", and a movie screening of The Simpsons Movie after dark.
————————————————————
Taking place over both September and October:
Throughout the Pigtown Series, Limerick Restaurants, Hotels and Bars will be featuring various Pigtown themed dishes and beverages
Milk Market Kitchen, the Milk Market, Saturday Mornings @11am



The autumn series of the popular Saturday Morning cooking demos in the Milk Market Kitchen will include Making Homemade Sauerkraut, Limerick-style Pulled Pork, Preserving the Harvest – All about the Apples, Cooking Wild Food, The Pig 'from nose to tail' and Sausage Making. The demonstrations are given by some of our talented local producers, chefs and food writers.
'Pin the Tail on the Pig' Art Attack at The Frank McCourt Museum
Visitors to the famous Frank McCourt Museum at Leamy House on Hartstonge Street are invited to take part in the museum's Art Attack event – taste some fabulous Limerick ham and play 'pin the tail on the pig' while exploring this iconic b
Movie series at Chez le Fab.